For well over a century, the Paxton and Vierling Steel Company has thrived as the founding firm of Owen Industries, a holding company that today owns and operates steel warehousing and fabricating plants throughout the Midwest. In that time, the firm has survived steel shortages, national recessions, international military conflicts, and even flooding at its home plant. And it's evolved to handle uncertain political climates, union disagreements, and new, unchartered areas of business.
The never-certain path to survive and thrive has been made possible by the company's employees and their unceasing efforts to make the business and everyone involved in it successful. In recent years, the firm has reinvented itself from the inside-out, running down much-coveted international work, expanding its home campus, and developing a nuclear-compliant program. This is the story of one of the Midwest's leading steel suppliers, the one located on Avenue H.
A peek inside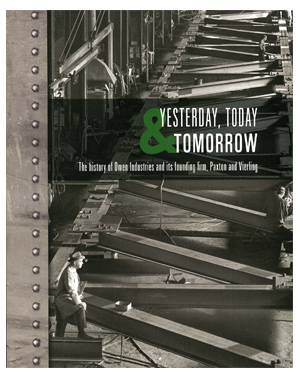 Excerpt from page
The company gave out its credentials to verify that it was a certified fabricator, and then had to re-submit all its certification documents each time it tried to bid on new work. At the time, Bechtel would often reward the work to the lowest bidder. Only after many unsatisfactory experiences with suppliers, either because of delivery problems or insufficient engineering capabilities, did Bechtel narrow its list of preferred suppliers.
Excerpt from page
The desire Bob Owen had to take the company's relationship with Bechtel a step further came to fruition one day over lunch in San Francisco with Bechtel's Tim Statton, who would one day become Bechtel's president. Owen expressed his desire to continue the working relationship but voiced the need to draft a long-term work agreement.
He explained to Statton the rigmarole that accompanied bidding on a project.
Excerpt from page
The MPA was a major coup for Bob Owen. It freed up the company to concentrate on doing high-quality work for Bechtel rather than focusing its energy on constantly resubmitting certifications as it bid on new jobs. Bechtel would now give Owen Industries first crack at any new job that came along.
Excerpt from page
The experience was frustrating for both companies, and over lunch Owen and Statton came to the conclusion that Bechtel needed to identify its key suppliers and come to terms on multi-project agreements that would span five or more years with a given supplier. Thus, the Bechtel multi-project agreement, or MPA, was born.
Excerpt from page