Shark hunting in the Florida Keys. Catching diamondbacks during a spring norther in west Texas. Lassoing a 600-pound taper with the night watchman. These are just a few of many captivating stories care of Dr. Lee Simmons, longtime director of Omaha's world-renowned Henry Doorly Zoo and current board chairman of the Omaha Zoo Foundation.

For years, many of Simmons' colleagues tried to convince him to write a book so his stories could be shared with others. Well, he finally got around to it, and Legacy Preservation is proud to have assisted Simmons in his work,
a 371-page book that is part autobiography, part zoo history, and overflowing with fun stories from his 65 years spent in the zoo world. It sounds a touch cliche, but there's a little something for everybody in this book.

As one Omaha newspaper columnist put it, "with candor and humor, even disclosing mistakes—yes, the futile, decadelong pursuit of pandas—Doc takes readers around the world in 80 years, his time on earth so far." If you're a zoo or animal lover, or simply someone who enjoys entertaining reading, you'll grab Doc, and you'll have a hard time putting it down.

A peek inside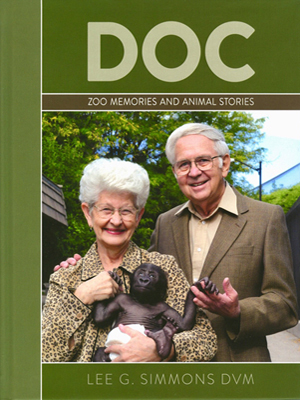 Excerpt from page
instructions hadn't always been followed, but more on that later. With so many animals immobilized at once it was inevitable that some of them would begin to metabolize the drugs before we finished our procedures. Whenever somebody shouted that a tiger or lion had gotten up, one of us would go over, grab it by the tail and administer another dose of sernylan. At a casual glance I'm sure this all looked pretty chaotic, but it was actually more like the controlled chaos you might see on the deck of an aircraft carrier where everyone had a specific job and got it done quite efficiently.
Excerpt from page
Each team had specific duties while Ulie and I did the darting, drew blood and kept track of the level of anesthesia. Since we were using sernylan as our chief immobilizing agent we didn't have to worry about animals coming up suddenly or being aggressive when they did. Nor did we have as much to worry as much about regurgitation and aspiration as we might have had with other anesthetic agents. We had asked that all the animals be held off food for a minimum of 24 to 48 hours to avoid such problems. As it turned out, our
Excerpt from page
There was no question they were seriously intent on killing and eating her. This was the first time that I realized that predatory behavior is hardwired. Even though she was the cubs' own mother, once she was unable to defend herself she became a prey species. We rushed in and pulled the cubs off—not without difficulty—and carried her out to the wagon. We ultimately put them back together but only after she was fully recovered from the phencyclidine. By then she was again the boss.
Excerpt from page
As I said, never before or since have this many exotic animals been immobilized in such a short a period of time.
While immobilizing a female tigress and her four cubs, each of which weighed between 50 and 60 pounds, we witnessed another of nature's countless phenomena. Our plan was to immobilize the mother and then net and hand grab the cubs. I put a dart in her, and she went down smoothly, but as she became ataxic amazingly all four cubs attacked her with a vengeance.
Excerpt from page
She sat with her mouth open, head up, trying hard to get air into her lungs to no avail. Despite immediately administering the reversing agent for M99 in a tongue vain (and a rather heroic attempt at resuscitation) the animal died of anoxia very quickly. Late that night when we did a postmortem examination the stomach was so large and heavy that two strong men could barely lift it out of the abdominal cavity. Given the relatively small lung capacity, short rib cage and large abdominal content of a hippo it was little wonder that her lungs were compressed to the point that she could not exchange oxygen.
Excerpt from page
There were other surprises. We only lost one animal under anesthesia, a female hippo. We had asked that all animals be fasted for 24 hours and the hippos, elephants and large ruminants be starved out for 48 hours before they were scheduled to be immobilized. Unfortunately, some members of the hippo staff disagreed and just before we started had given them all they could eat. The grain immediately swelled up with water in their stomachs, and when we administered what should have been a light sedating dose of M99 and the female went down, her stomach and abdominal contents pushed up and compressed her lungs. Her respiration was severely compromised.
Excerpt from page
Additionally, this animal had more than five gallons of vile-smelling brown fluid in her uterus which later cultured out a cosmopolitan population of bacteria.
From that point on we asked very pointed questions of the keepers just before we immobilized each animal.
Excerpt from page