Born in 1943, Gary Kirke was tail gunner in a family of nine children born to a life insurance salesman and a "shop girl" in Des Moines, Iowa. As the youngest, he "got away with murder," according to a sister. He did have a certain free-range quality about him, and a tendency to get in trouble. The Dominican nuns at his grade school helped to tame him a bit, and he loved them forever in return.

Gary had an eye for innovation and the self-confidence to follow his own path. He bailed out of a training program at a big insurance company once he realized that almost nobody was selling group insurance to associations.
He saw the potential and put everything he had into developing this new clientele. His success impressed everyone, including the world's largest insurance broker, which bought Gary's company for well over $200 million.

This was just the first of a series of entrepreneurial bets Gary has placed on wildly divergent industries, including medical technology, carbon fiber products, and casino gaming and hospitality.

Gary Kirke's story is unique and inspirational. It's about hard work, good timing, appreciating what you've got, and making your own luck if it doesn't show up on its own.
A peek inside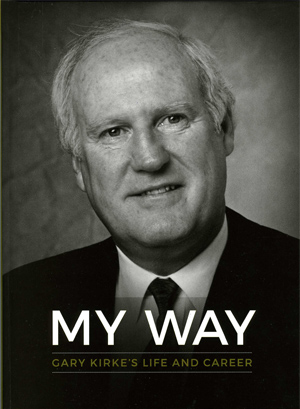 Excerpt from page
Ben had helped Reeder get started in the insurance business, and now Reeder was returning the favor by mentoring Gary.
Reeder placed Gary in a training program that started on June 1, 1964. His first assignment, which seemed odd at the time but later proved prescient, was the mailroom.
"I thought, 'Three hundred hours in the mail room? I didn't come over here to work in the mailroom; I came to learn insurance,'" Gary said.
Excerpt from page
A lot of Gary Kirke's stories about business breakthroughs begin in bars. A favorite hangout during his early years at Continental Assurance in Chicago was the Brokers Inn. "After work," he said, "I used to go down to the Brokers Inn and drink at the bar with Howard Reeder and Charlie Finley. I was only 21 years old and people would ask me, 'How do you know Howard Reeder?'"
The answer was that Reeder, the head of Continental Assurance (which would become CNA Group in 1965), had been a protégé of Gary's father when Ben Kirke ran the Des Moines office of Lincoln National in the 1940s and '50s.
Excerpt from page
"I went from department to department in the training program at Continental," Gary said. "After the mailroom, I worked in underwriting. The next place I went was the department of retirement and special plans. Pete Hahndorff was an actuary who headed that department, and he said, 'Gary, you ought to go to the mass marketing department next, because they're doing all kinds of new stuff there.'"
Mass marketing was where it all started to click for Gary. "I was doing proposals for the brokers, and Charlie Finley was one of them. Charlie had a big agency and was one of the first guys to get involved in mass marketing."
Excerpt from page
"But working in the mailroom turned out to be the best thing I ever did. I was delivering mail to all the executives, so I got to know them all, and later on when I moved around and worked in various departments, they already knew me."
From the mailroom, Gary was able to learn about the whole company. It was a great experience for someone who eventually owned a brokerage that leaned heavily on direct mail solicitations. It also put him in touch with people who later would help him grow his business. "Those guys always got me the deals I needed," he said.
Excerpt from page
As far as anybody knows, that was the first time insurance was mass marketed to a target audience.
"At Continental," Gary explained, "we were called broker administrators, because we not only brokered the plans, but we also did a lot of the administration. A broker like Charlie would go out and find a risk, and then he had to go to an insurance company to place the risk. Charlie sold the American Medical Association a long-term disability plan. Then he came to Continental to see if we would underwrite it and give him a quote."
One evening, Gary and Finley were having a drink at the Brokers Inn and the enormity of what Finley had done hit Gary like a Mack truck.
Excerpt from page
Finley's first client was the American Medical Association. Here's how Gary said it happened: Finley was injured and had to have surgery. While he was in the hospital, he got into a conversation with his surgeon and asked, "What would happen if you became disabled and couldn't use your hands?"
The surgeon said he didn't know, but he probably wouldn't be able to do anything. That's when Finley explained disability insurance to the doctor, who agreed that it sounded like a good idea.
"So Charlie called the American Medical Association and signed up 20,000 doctors right away," Gary said.
Excerpt from page
Gary decided right then that he would cancel the rest of his training program and build a career in mass marketing.
Excerpt from page
"You got 20,000 people in one sale," Gary said. "I couldn't sell that many life insurance policies the rest of my life if I worked through lunch, dinner and breakfast."
Excerpt from page