One of Patricia Curry Bagwell's ancestors came down the Mississippi River in 1829 and acquired farm land in northeast Louisiana through a land grant signed by President Martin Van Buren. Another left his home in the French Pyrenees at age 19 and made port in New Orleans in 1855, where he started a business exporting flour.

Pat's family contributed to the state's development through success in farming, finance, teaching, trade and public
service. Her father spent 12 years in the Louisiana state legislature during the rise of Huey Long, and he felt the blunt end of Governor Long's political persuasion at least once.

Up River, Down River traces the Tullis, Curry, Camors and Redon families in Louisiana, as well as Pat's experiences in the St. Joseph and Monroe areas.
A peek inside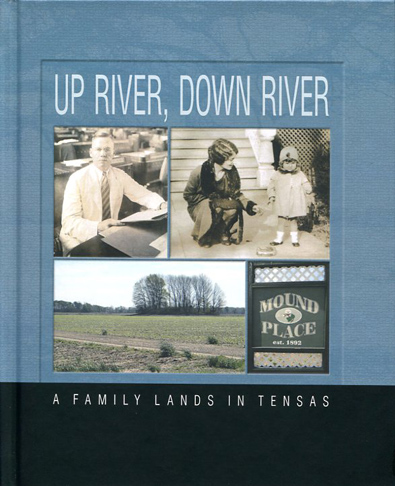 Excerpt from page
to his old home in France. He will remain among old friends on the other side until September and then journey back home.
"Each time he came back from France he brought his wife some china," Pat said. "Every piece has his monogram on it – JBC. He must have liked monograms. My cousin Anne says he even wore monogrammed underwear.
Excerpt from page
"According to family legend, each time my great-grandfather's wife got pregnant he went back to France to visit his mistress. With nine children, he must have spent a lot of time in France," Pat recalled.
A note in the society pages of the New Orleans Times-Picayune on June 21, 1906, mentioned these travels on what may have been his final trip:
Mr. J.B. Camors leaves the city today on the La Savoie for a journey across the ocean
Excerpt from page
"Anne and I inherited a lot of china. Between the two of us, we had 52 plates. Whenever one of our kids got married, Anne hosted a dinner at her house and she did the whole thing in Camors china. About 20 years ago, Anne had a family reunion and asked everybody to bring a piece of Camors china – whatever they had. It turned out that nobody else had anything because we had it all. One of the sisters said George Camors, our grandfather, ran off with all the china and the silver in a carriage. Maybe that's how Anne and I ended up with all that china," Pat speculated.
Excerpt from page

Words from the client
"My hope was that this experience would be fun and exciting for my mother. She has a love for books and history. She has tremendous historical family knowledge that only she knows. And this would be a multi-year project that would allow her to engage and share her thoughts for future generations. How fitting for her to have the opportunity to put her family history to writing.
Working with the Legacy team exceeded expectations in all areas. We moved from negotiating a deal to becoming friends and colleagues as the book was written. I believe my family developed a real personal connection with David et al, and this set the stage for an outstanding experience.
The penultimate moment will come next week when my 87 year old mother hosts a book signing at the library in her hometown of St. Joseph, LA. It just doesn't get much better than that as it relates to life experiences."
– Norm Bagwell, son of Pat