For hard riding, straight shooting, having fun, challenging the odds and helping build up their community, it would be hard to find any other American family to compare with the Lukes of Arizona. Their story began with Charles Augustus Luke, a saloon-keeper, Indian fighter, politician and mining entrepreneur who rode the hills and valleys of frontier Arizona. It continued with Frank Luke Sr., his nephew, who helped fund the young state as a State Tax Commissioner, and Frank Senior's son, Frank Luke Jr., who won the Congressional Medal of Honor in the bullet-packed skies over France in World War I.
The Luke story continued with Frank Jr.'s brother Bill, an avid outdoorsman who became a key part of the state's business community as head of Bill Luke Chrysler in Phoenix. It continues today with Bill's son Don, who still runs the family auto dealership.

The Luke story is one of courage, daring and hard work, of translating frontier grit into success in business and in life, of enjoying the bounty of nature, and of never losing track of where you came from. It is a uniquely American adventure.

A peek inside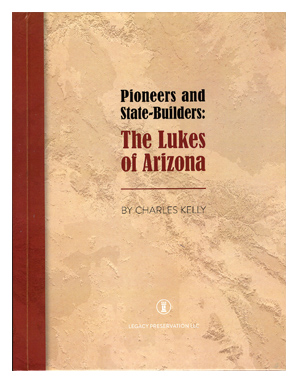 Excerpt from page
Among his closest friends were a hunchbacked boy and a young man with great artistic talents.
He was capable of great sentimental love, and was dedicated to his girlfriend. He was so worried about upsetting his family that for weeks he hid the fact that he was in the midst of the fighting. Though his family had emigrated from Germany only one generation before, he was the embodiment of an American: brash, patriotic, individualistic, and resourceful.
Excerpt from page
Frank Luke Jr. stood 5-foot-10 and weighed 170 pounds–a slim, hard-nosed man topped by a shock of blond hair. He was a study in contradictions. Many of his flying mates in the Army Air Corps considered him a braggart and possibly a slacker–the kind of egotistic "jock" type who probably couldn't cut it when the chips were down. He proved them wrong in many ways, and many got the wrong impression.
He was a jock in high school, true, but not one who spurned his nerdier schoolmates.
Excerpt from page
Frank Luke Jr. was born on May 19, 1897, the fifth child and third son of his parents. He died on Sept. 29, 1918, at 21. The early part of his life was lived in Arizona Territory, before Arizona had become a state. But, by this time, the raw frontier was giving way to determined settlement. His schooling reflected this, though some of his leisure-time activities–exploring the desert and camping out in undisturbed wilderness–harkened back to the area's wild past.
Excerpt from page
He also demonstrated a love of machinery and an entrepreneurial spirit that would characterize the Luke family in America and contribute to their success for decades to come.
Frank Luke Jr. became one of the best-known Arizona heroes: Today, a statue of him guards the State Capitol in Phoenix; Luke Air Force Base in Glendale, Arizona, is named for him. His short life generated hundreds of newspaper and magazine articles and three significant books.
Excerpt from page