Bob Gottsch's sons decided it was time. For years since their father's death, they had lost count of how many people, in recounting their favorite Bob Gottsch story, told them, "Somebody should write a book about that guy."

So they did. The Gottsch brothers found Legacy Preservation, and Legacy's staff began tracking down the mind-blowing story of Bob's life. Stories came from everywhere: old brawling buddies, competing cattle feeders, family friends and even a person or two who still had a bone to pick with Bob.
The end result is the most talked-about book Legacy has ever produced. The Gottsch brothers dedicated their story to "ag kids everywhere, kids who work hard and get their butt kicked a few times along the way by parents who just want them to be able to survive the life." Just like Bob would have wanted.
A peek inside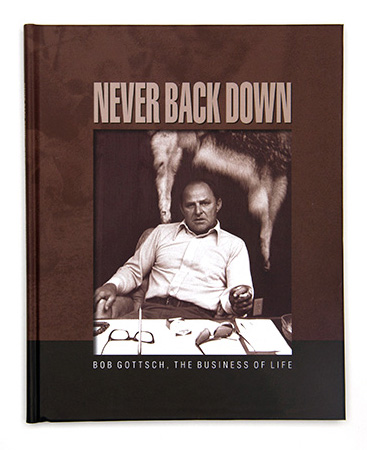 Excerpt from page
He liked nothing better than beating you out of the cost of lunch. But after he scrambled for pennies, he'd go all in on the cattle market. If you got crossways with him in commodities, you'd better hang on tight, because he'd take you for a ride. People who called his bluff found out they shouldn't have; he never bluffed.
He had cowshit on his boots, millions in his accounts—when things were going well—and no wallet in his pocket, at least to hear him tell it. He was tough on his kids, and made them tough. He helped people lots of times, but you wouldn't hear about it from him.
Excerpt from page
THE SENOR
Bob Gottsch was a hell-raiser. If you called him a liar, he'd knock you on your butt. He wasn't a big man, but he was square cut and bull strong, with live-wire eyes. Hard work was his religion. He'd work you into the ground any day of the week—every day of the week. He'd bang drinks with you until you were passed out on the floor, and he'd get up the next morning and do it all over again. Thrift drove him; he'd haggle over the price of a gallon of gas or a McDonald's hamburger.
Excerpt from page
Bob Gottsch was born on September 10, 1926, near Kennard, Nebraska, west of Blair, and died in Omaha on June 28, 2002, at the age of 72. A lot of people cried at his funeral.
Some of them laughed through their tears. They knew. A damned interesting piece of the world had moved on, and it wasn't coming back. They didn't know the whole story, though. Here it is.
Excerpt from page
He was a great dancer; friends called him "Disco Bob." They also called him "The Senor," which translates as "The Mr.," or "The Man."
He drank whisky and puffed Marlboro Reds. His favorite food was apple pie. Whatever game he played, he played hard. His handshake meant something. He liked to laugh. You could call him a lot of things—farm kid, ballplayer, cattle feeder, trader, prankster, fighter, gambler. Hardass. The one thing you couldn't call him was ordinary.
Excerpt from page