In the days of making deliveries for a local creamery, it's doubtful that brothers Arlan and Dennis Van Wyk ever dreamed their modest trucking operation would one day employ more than 200 people in three locations across the country.
Trucking has come a long way since diesel fuel sold for 23 cents a gallon, and Van Wyk, Inc. has adapted with its industry. Now using technological advances such as satellite tracking and pre-pass sytems, Van Wyk is on the cutting edge of a path—and business—it helped pave. This company history captures the stories, joys, sadness and success of the business's first 50 years.
A peek inside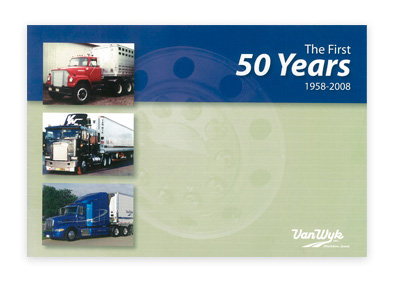 Excerpt from page
And drive he did. After graduation from Sanborn, Iowa, High School, Arlan went to work for Herman Lode hauling livestock. He also worked for the Sanborn Creamery on delivery routes as a vacation driver.
"In those days we put milk on the farm into cans and took it to town. The creamery had delivery routes around the area, so I hauled from the farms to the creamery. The work load often meant arising at 2 or 3 in the morning followed by full days and evenings."
Excerpt from page
ONE NIGHT WHEN ARLAN VAN WYK was 'a kid' of about 12 – he accompanied his father, an Iowa farmer, to sell some cattle. His father and a driver loaded the cattle into a truck and off they went. Arlan enjoyed the experience.
A similar trip later, when Arlan was 16, took them to South Dakota and yet another to St. Paul, Minn. They made the latter in a tractor-trailer. His dad allowed Arlan to drive the rig part-way home. "I think I can do this," young Arlan said to himself. "I would like to drive."
Excerpt from page
The Van Wyk Brothers formed a partnership in 1959 and bought out Clarence Hector's tractor-trailer and two straight trucks. They got an additional truck from a farmer. "For a while we were just hauling hogs but then we decided to set out to build a business," Arlan said.
That business, initially named "Van Wyk Brothers Trucking" of Sheldon, Iowa, eventually became the Van Wyk, Inc. of today.
Excerpt from page
In his second year after high school at age 19, Van Wyk made what would become a historic decision. He purchased two straight trucks from Herman Lode, his wife's uncle, and on January 14, 1958, started his own business, hauling hogs and emptying grain bins.
More long hours followed, but Arlan's two-truck business was an early success. So much so that a year later he discussed with his brother, Dennis, how they might expand.
Excerpt from page