Growing up in New York City, participating in a presidential inauguration and traveling the globe with a world-class symphony orchestra—sounds interesting, right?

It certainly has been for Tom Fay, who has lived every minute of it.

In Collections, Fay recalls unforgettable stories from his youth in the city—including funny tales from his father's tenure as a motorman for the city's elevated train—and his own rise through the ranks to become one of the world's premier oboists with the Pittsburgh Symphony.
A peek inside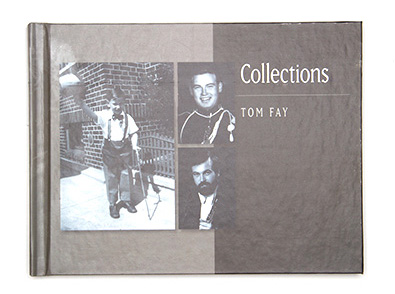 Excerpt from page
Before Steinberg, the Pittsburgh Symphony was headed by Fritz Reiner, who eventually left to become music director of the Chicago Symphony. That's the sort of orchestra Pittsburgh was at the time, a top-flight organization with outstanding leadership and outstanding players. It was a destination, not a stepping stone.
As for me, I just tried to fit in.
Excerpt from page
THE PITTSBURGH SYMPHONY, when I arrived in 1967, was a first class orchestra.
And I don't mean that in a token sort of way.
William Steinberg, our music director, was imbedded in the fabric of the Pittsburgh cultural scene the same way Eugene Ormandy was in Philadelphia. Only a handful of conductors across the country garnered such high esteem in their communities. Steinberg lived in the Pittsburgh community: he shopped there, he ate there and he was recognized on the streets as a person of influence.
Excerpt from page
One of my first interactions with Steinberg came during my first months on the job. He walked out of his office in Syria Mosque and began following me down the hallway. I could hear his steps behind me. I tried to move a little faster, feeling like I needed to get out of that hallway as quickly as possible because he made me so nervous. He said, "Mr. Fay."
Excerpt from page
I never really became close with Steinberg personally. We got off to a shaky start at my tryout when he approached the stage from his seat in the back of the auditorium to question my interpretation of Bach, and then he selected me to join his orchestra anyway. So it's safe to say he kept me off-balance from the beginning. Steinberg possessed a classic old-school German personality. He believed—not that he said it—and led me to believe that his success and our success as an orchestra were predicated on maintaining a distance from his players. If he got too close to the orchestra, he might risk losing his sense of control over us. He was like a mini-God and had to maintain that persona.
Excerpt from page
She was present at the first Mahler performances in the Vienna Philharmonic and performances of the Berlin Philharmonic and other notable orchestras. Her observations became the yardstick for how pieces of music would be interpreted and played for generations to come.
As soon as I confessed to Steinberg that I was unfamiliar with the name Amy Fay, the blank spot on my brain was suddenly filled with pieces of information I had learned about her from graduate school. It all came flooding back to me. I was stumbling at this point, but it was too late. The cat was out of the bag.
Excerpt from page
I thought to myself, Here it comes.
"Are you any relation to Amy Fay?" he asked.
"Not that I know of," I said. I thought to myself, who is Amy Fay?
Amy Fay was a musicologist who lived in Vienna at the turn of the century. She wasn't a playing musician but was trained in the school of music. She visited concert venues and described for readers what it felt like to listen to the great conductors, composers and music directors of her time.
Excerpt from page
"Well, I'll have to make sure that I read up on that," I said.
"Yes, do that. And we'll talk again."
Talk about a man with a presence.
Excerpt from page
"You should know who she was," Steinberg said, seemingly breathing down my back. "Not only because she had a name like yours, but she was one of the great minds in music. How could you get so far in music without knowing who Amy Fay was?"
I didn't even want to argue the point by confessing that I was in a momentarily brain block because he scared the heck out of me.
Excerpt from page