From the lab to the board room, Dr. Wayne Ryan's career in science has spanned decades and continents, and in the process he built a company that began by manufacturing modest laboratory equipment in a colleague's kitchen. Today, that company, known as Streck, does business around the globe, specializing in first-class clinical laboratory products.
Through all the success, Ryan never lost his enjoyment for nuts and bolts science, solving complicated problems at the bench.

This is the story of a scientist, a family and a company that epitomizes the American dream.
A peek inside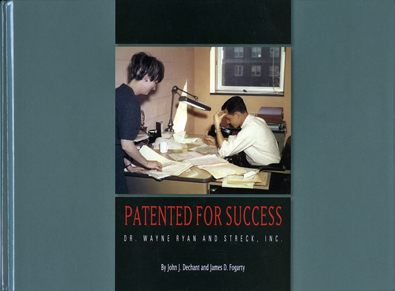 Excerpt from page
Ryan's cancer research centered on the growth of cells, particularly lysosomes. Ryan explained to Wilbur his findings, and ultimately his research in cancer cells was directed to discover if cancer cells had the same capabilities as normal cells. At Creighton, Ryan had also worked on cancer research with Dr. Hugh J. Phillips, an associate professor of Physiology and Pharmacology. Ryan and Phillips worked to create a vaccine from mold, which assimilated cancer cells. Their lab was a mixture of body tissue growing in flasks and white mice injected with mold
Excerpt from page
SLOWLY BUT SURELY, Dr. Ryan's work at the Nebraska Medical Center gained him recognition. On July 6, 1967, his work was profiled in the Omaha Sun newspaper by writer Richard Wilbur. The article, titled "Dr. Wayne Ryan: Deep Search for Clues to Cancer," gave an in-depth profile of Ryan's day-to-day work, which was often confusing to outsiders. Ryan's job, the article stated, focused on getting two groups of doctors—Ph.D.s and M.D.s—to work in concert, particularly in treating cancer patients.
Excerpt from page
He made sure all the right people at UNMC knew the focus of his research and its importance to science.
Although he wasn't a prototypical salesman, Ryan's penchant for writing top-notch grant proposals continually yielded positive results. Grant writing is tedious work that chases many Ph.D.s away from academia, and it always required year-end reports to document results. These reports were critical in procuring funding for the following year—and often Dr. Ryan spent as much time writing year-end reports as he did writing new grant proposals.
Excerpt from page
filtrate: casualties of a research venture that aimed to compare regular, healthy cells to cancerous ones, much like the project he would undertake years later at UNMC.
The Sun newspaper's profile also shed light on Ryan's exemplary record of procuring grant funding for his studies. As Ryan's graduate students soon found out, their professor had an impeccable reputation in the academic community, and that reputation was instrumental in steadily accumulating more space in UNMC's Eppley Institute. Among his many talents, Dr. Ryan was resourceful.
Excerpt from page
Ryan's annual $20,000 salary was also federally funded. So broad were his research activities and so large was his bevy of graduate students, Dr. Ryan operated the entire floor, the fifth floor, of the Eppley Institute. Hal Sornson remembers students and faculty members referring to that area as "Ryan's Empire," a name, Sornson believes, that Ryan didn't know about.
"That really set him apart from others," Sornson said. "When I came there, I didn't know one thing from another, but I was made aware that he had money to fund things and run projects.
Excerpt from page
Ryan received significant funding from the National Institute of Health and the American Cancer Society—and many other sources, too. At the time of the profile in the Omaha Sun, Ryan's research activities operated on $125,000 annually in grants. One grant of $25,105 from the American Cancer Society helped purchase a peptide analyzer, which he used to study the presence of peptides, made up of amino acids, in cancerous tumors. The machine allowed the peptides to be separated from tissue, stored in a tissue culture and tested for their biological activity.
Excerpt from page
"Back in 1967, if you were to walk into a biochemistry department, it was pretty casual. But Wayne has always been an impeccably dressed man. He's always like that. He just screamed professional."
Excerpt from page
A lot of other professors in the department didn't have anything.
"He was writing grant applications for different cancer research projects at that time, and then he'd send them off to the National Institute of Health or the National Cancer Institute and many others, and some would get funded, some wouldn't and so on. He did better than most. He had a lot of money and a lot of graduate students.
Excerpt from page