Sue Oakes grew up on a farm in southwest Iowa and spent long weekend hours at her grandmother's farmhouse a half-mile down the road. A lively mind and a wealth of interests made Grandma a fascinating companion, as far as Sue was concerned. Over the years, they grew quite close.

Imagine Sue's surprise when – many years later – she discovered diaries detailing the greatest adventure of her grandmother's life. In 1910, 24-year-old Mary Gabby left the farm and traveled a thousand miles to take a job as a country schoolteacher in the wooded wilds of eastern Washington.
"It was an experience she never talked much about," Sue wrote in the book's introduction. "I imagine now that she wanted to keep this time sacred for herself."

In 2005, Sue honored her grandmother's memory by driving out to eastern Washington and visiting the remote area where Mary Gabby had taught school. When she returned home, Sue edited the diaries and interspersed diary entries with her own reflections on her grandmother's journey.
A peek inside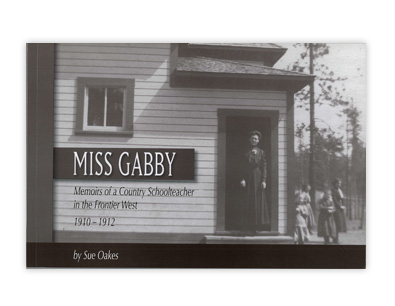 Excerpt from page
She was an avid bird feeder and knew the names and habits of many birds. Her gardens, fish pond and rose bushes were her pride and joy, and she loved to share them with visitors.
She also loved the snowfalls, even when it was bitterly cold. The winters in Gerome [Washington] were very snowy when she lived there. She remarked frequently in her diaries about the beauty of the snow and she took many pictures in snowy settings.
Excerpt from page
DECE 31 —RAY BROUGHT ME home in the sleigh. Such an exquisite night. So sparkling and crisp (almost zero). The trees just glistened. I never saw things so grandly beautiful.
Grandmother always found the beauty in nature. I can remember hearing her expound on the outdoors when I was a child. A smoke bush in her yard was among her favorites, and she would take me out to see it at different times of the growing season.
Excerpt from page

Words from the client
"Thanks so much for everything you did to bring my book from a dream to the real McCoy. You were a Godsend."
— Sue Oakes