Red Nelson was a people person. The ultimate people person. Everybody who knew him loved him, and there were very few people who didn't know him. That people-first attitude is what helped Red succeed in the insurance business, taking a small, independent agency and skyrocketing to the top of his profession.
Nelson also was a man tied deeply to his family's roots, and An Uncommon Family traces those roots back to Sweden. In 1863, the family packed up and headed for America. It was a harrowing journey, but one that paid tremendous dividends for Red and his heirs. This is the story of the man and his family whose uncommon desire to continually strive for better opportunities has helped it capture the American dream.
A peek inside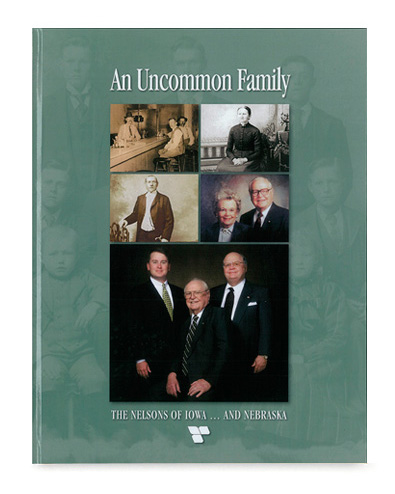 Excerpt from page
That's what Red Nelson most likely did when, as a sophomore in high school, he ventured to the big city to finish his early education at Omaha Technical High School. For many boys his age, it would have been a daunting, lonely journey, but Red was physically and mentally tough. He knew what he wanted and he was willing to endure loneliness and hardship to get it.
Excerpt from page
WHEN RED NELSON WAS 14, he caught a train. A few years later, he missed one. Those events, and certainly the latter one, changed his life forever.
In 1926, a train called "The Mondamin" ran between Omaha and towns to the north along the Missouri River, passing through Herman, Nebraska. For a few cents, a youngster who needed to see the larger world beyond Herman could catch "The Mondamin," ride for 30 miles, and step out in Omaha near the central business district.
Excerpt from page
Legitimate and vaudeville theaters and dozens of motion-picture theaters offered entertainment to local residents, as did games played by the Omaha team of the Western Baseball League and the horse races at Ak-Sar-Ben.
Red Nelson had little money to spend on the more sophisticated delights of the big city, and he wasn't there for them anyway. He was out to get an education and earn a living as best he could. Red filled out a job application at the YMCA, taking care to use the high-quality penmanship he had learned as a youngster.
Excerpt from page
The city that Red Nelson arrived in seemed huge to a small-town boy. The population was upwards of 215,000, and it had the second-largest livestock market in the nation. Omaha was first in butter production and pig lead production and had the most park area per capita of any city in America, boasting thirty parks. It also was the center of 16 national and interstate highways, had three daily newspapers—the Omaha Bee, the Daily News and the World-Herald—and was a vital education center for the region, topped off by Creighton University and the University of Omaha.
Excerpt from page
The man from the gas company office was impressed.
"I want you to be the timekeeper down here," he told Red. "We can't read the stuff we're getting."
Excerpt from page
It always paid to do every task as well as you knew how. The foreman took the application and sent it up to the office, and Red set to work with his shovel. A couple of days later, a man came to the work site seeking Red. Showing him the application he had filled out, the man asked, "Where did you learn to write like that?"
"I grew up in a family with four older sisters and they made me practice shorthand and Gregg," Red told the man from the office.
Excerpt from page